Welcome to Milbridge, a thriving coastal community on the doorstep of Washington County.
Milbridge is located on the coast in Washington County Maine. It is the hub for goods and services for the surrounding downeast communities of Steuben, Cherryfield, Harrington, Addison, Columbia and Columbia Falls. We have medical facilities, grocery stores, building and contracting suppliers, banking services, restaurants, and gift shops.
Step back in time and catch your breath. There are no traffic lights or traffic jams. This area is virtually free of air pollution and has a low crime rate. Property real estate taxes are reasonable and the properties are affordable. There is no greater place to retire seasonally or live year-round!
We have over 75 miles of irregular saltwater shoreline frontage, a class "A" river,  the Narraguagus, which is famous for its Atlantic salmon and striped bass. Visit our public harbor with dock and moorings where it is not uncommon to view seals at play and bald eagles fishing.  Sea kayaking, sailing, boating, and island exploring add to the recreational enjoyment.
Climate
Our comfortable summers with average temperatures of 70 degrees and the gentle sea breeze makes it very pleasant. Winters along the Downeast coast are cold, but not harsh. Snowfall average is 30" per year. Milbridge is situated on US Rt 1, 30 miles east of Ellsworth, and 45 miles northeast of Acadia National Park in Bar Harbor.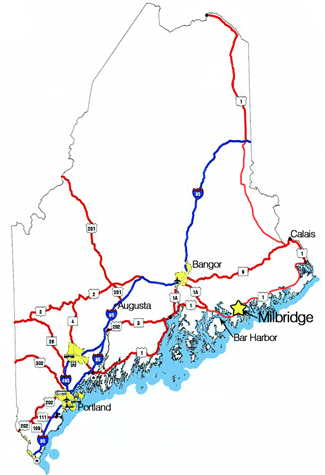 Local Economy
Fishing, clamming, lobster fishing, blueberries Washington County has the largest concentration of low bush wild blueberries in the world) and cottage industries such as Christmas wreaths, crafts, artists, etc.
There are local contractors available to clear your house site, drill your well and build your dream home.  We will be more than happy to help you with these matters.
Drop Anchor Realty
Drop Anchor Realty is a family-owned and operated real estate business since 1981. We specialize in waterfront properties along with a full complement of residential homes and acreage in Milbridge and the surrounding communities of Steuben, Cherryfield, Harrington, Addison, Jonesport, Columbia Falls, Columbia, and Gouldsboro. Our inventory also includes a few select commercial and investment properties.
The principal owner/broker has years of combined experience working with buyers and sellers. Our knowledge and helpful staff can guide you through the process of finding your Maine home or property.
Please let us know how we can be of help to you.
Staff
Ronald Gallant, Jr., Designated Broker
Bill Moore, Broker
Cheryl M. Look, Associate Broker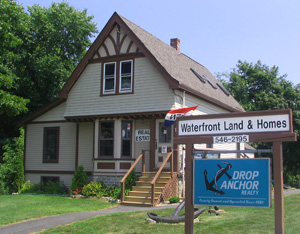 Our office is located on Main Street in Milbridge at the junction of U.S. Route 1 and 1A.
P.O. Box 249
Milbridge, ME 04658
(207) 546-2195
fax: (207) 546-2310